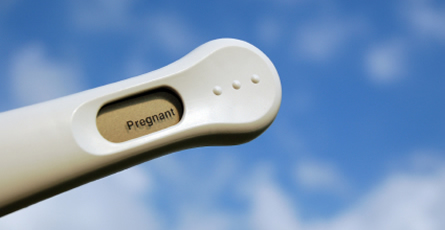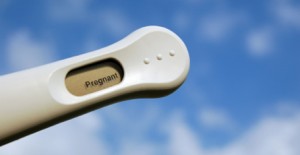 I hinted to you guys on Friday that I would be sharing a really big and really cool surprise today. Well, the time has come.
Some of you may be shocked, flabbergasted, amazed…and others of you might not be too excited considering the news. However, I was floored when I found out.
Here's a hint: It's small, the size of a lentil bean, is confirmed by peeing on a stick, and is currently making me extremely nauseous.
That's right, you smarty pants, you…I'm pregnant!
Are you surprised or just plain old happy for me or both? Well, I'm beyond surprised, since this baby is a big surprise, to say the least.
Here's what went down:
From our engagement, Jonathan and I always felt that we wanted three kids. While I was pregnant with our second, however, we felt the urge to pray about having that third baby. As we prayed, we both felt that while God was certainly giving us permission to have a third, He was also cautioning us about the decision.
We were a little sad, but we decided to heed God's warning and caution. Over time, I became completely comfortable with that decision. Two is pretty easy. I'll take it.
Then, wouldn't you know, about 6-7 months ago, I got baby fever. Bad. I was distracted, obsessing, dreaming, scheming even (yes, I'm referring to seducing my husband) about ways to have another baby. I prayed. Jonathan prayed. Same story. We still did not feel like moving forward would be the best thing for us or our family.
I was laying in bed one night a few weeks ago, literally crying out to God. I felt so conflicted. On the one hand, I could see the benefit of remaining a 2-child family. I knew that 2011 was promising to be a big year for me personally, professionally, and in ministry. I could understand why saying "No" seemed wise.
Yet, my heart really was longing for another baby. I couldn't shake it, no matter how much I prayed and asked God to take away the desire. As I lay there in bed, crying, I actually told the Lord that I didn't want to be pregnant. That I wanted His will. That I wanted  what He had for me and nothing less.
The next morning, I woke up and checked my calendar and realized that  I was 4 days late. I called my friend and she convinced me to take a pregnancy test.
I walked into the bathroom, cool as a cucumber, and actually said out loud, "I'm 87% sure that I'm not pregnant." 6 to 7 minutes later, I walked back into the bathroom, only to have the wind knocked out of me. I. Could. Not. Believe. It…Pregnant. The stinkin' stick said "pregnant".
I will admit that right then and there I had a little bit of a panic attack. I couldn't breathe. I started crying. I called my friend back and she proceeded to talk me down and remind me of what a tremendous blessing this really was.
Why was I so conflicted? Well, on the one hand I had been certain that the Lord had said, "probably not," or at the very least, "wait." I had spent hours in bed, just the night before, professing that I did not want a baby. I wanted God's will.
In all of my conflicting emotions and confusion, the Lord spoke a verse to me: 1 Samuel 1:26. It is Samuel's mother Hannah, who had prayed to God for some time petitioning Him for a child. He heard her prayer and she responded to the Lord by saying, "As surely as you live, I am the woman who stood here beside you praying to the LORD.  I prayed for this child, and the LORD has granted me what I asked of him.  So now I give him to the LORD. For his whole life he will be given over to the LORD."
I read those words and started weeping and began thanking the Lord, for while I had confessed I wanted God's will for me, His will for me was, in fact,to have another child because He had heard my cries and "granted me what I asked of Him."  Right then and there, I  dedicated this little lentil bean to Him.
So yeah, I'm already feeling puffy and sick to my stomach. The cravings for weird things has already begun. I'm tired and cranky, weepy and sleepy, but it's all worth it. Nothing beats God's surprises. Nothing.
Thank you to all of you for sharing in my joy and excitement! Don't worry, MR is not going to suddenly become a baby blog, but I will keep you updated along the way. God is good, isn't He?
What is one of the BIGGEST surprises God has ever blessed you with? How did you respond? How did it change you?