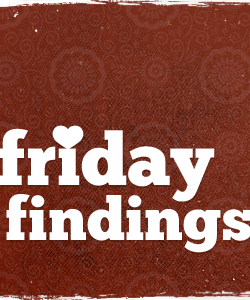 Is it just me or has there been a ton of great stuff to read these days? Maybe it's the fact that Fall has set in and people are feeling inspired. Or maybe it's that I'm just getting better at finding things I'm really interested in reading.
Either way, there is lots to share on today's Friday Findings…
Jesus was Married. Didn't Cha' Know? Hopefully you've seen this headline already. It's been everywhere. This post from Mark Roberts at Patheos is a great academic and well-reasoned summary of the "married Jesus" question. Also this post from the Huffington Post answers the 5 big questions about Jesus potentially being married.
Water Baptism. You Thought You Knew. This post from Frank Viola blew my mind. I feel like I link to Frank almost every Friday, but that's because he brings such a balance and understanding of the Word and the Spirit. If you think you know what scripture has to say about water baptism, read this. You may know less than you think.
Read Between the Lines. In true Jamie the Very Worst Missionary fashion, she manages to make me laugh, cry, sigh, and feel encouraged all in one fell swoop. She is amazing. This post is so good.
Can Men and Women Be Friends? I love talking about this age old question. I've even written about it before, but I did so from the perspective of a married person. However, Emily Maynard over at Prodigal Magazine did a wonderful job of answering this question from the viewpoint of a single person. I found it to be so honest and relatable…even for a married chick like me.
Be a Coding Geek. This post is a fun and well done infographic on why you should learn to code…at least a little bit. I've had to learn a smidge, what with having a blog and all. The arguments for why are pretty interesting.
Interracial Relationships and Self-Hate. I have to admit that it was the rather provocative title of this piece over at BlogHer that caught my attention–Do Interracial Relationships and Self-Hate Go Hand-inHand? All in all it was an interesting read. It certainly got me thinking and that is never a bad thing.
90's Throwback. If you're a product of the 90's (and even if you aren't) you will enjoy this hilarious homage video to that great decade, via Mashable. Enjoy!
So, do share. What did you read, watch, or write yourself that simply needs to be shared? Lay it on me!