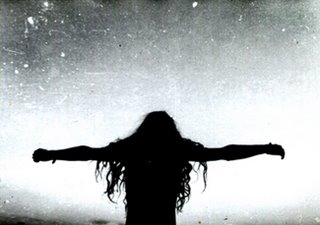 I'm an introvert and like any good introvert I avoid people. Well, not avoid people, so much as don't like people.  I'm kidding. Sorta.
Basically, I need my space…and a lot of it.
And also like any good introvert, I especially dislike meeting new people. I get squirmy (on the inside) and sometimes feel like I'm going to barf (on the outside). I take time to really like people. I might love you right away because Jesus has this thing He does that makes that possible, but the liking part and the trusting part and the open and vulnerable part, that takes time.
Unless of course Jesus is doing something else, which He is known to do. . So when that something else happens, my introversion goes out the window. My heart bursts forth, my arms fling wide open, my spirit smiles because it knows…
…that this person is different. This one, this person, He is calling me towards.
—————————
I saw her walk up to our table and as soon as my eyes fell upon her, I knew. I knew something, not all of it, but a piece of it. I knew that my heart was trying to escape from my chest so it could hold her, and hug her, and tell her it was all going to be okay.
Her face was beautiful and covered with shyness. Her eyes sparkled through a veil of pain. She was wanting. She was trying. That's why she was standing there in front of me.
I asked her and her sister, the two of whom were obviously besties–attached at the hip–reminiscent of twins, but separated by 2 years–if they wanted to register. They said yes, but proceeded to ask me a few questions.
I explained to them what Prism would be like, look like. I explained how we were wanting to empower women in their gifting, to more beautifully reflect Christ. I explained how when I was 23, discovering my spiritual gift, was a catalyst for me and marked a significant change in the way I saw myself and my place in the Kingdom.
Her eyes welled-up with tears."That sounds….ahhh-mazing…" she said slowly and quietly. I promied her it would be, all the while really hoping and praying that I hadn't sold her a bill of goods. Would we deliver? Would Prism really be what I had hoped?
Would Jesus show up? Would the Spirit really move?
Or would I be called a liar?
Over the next week, I kept thinking of her, praying for her, wondering if maybe she wouldn't show up.
The morning of, I was swept up in the day, moving busily from woman to woman, laying on hands. I spoke for an hour about spiritual gifts and our identities in Christ. I watched from the stage as women in the audience began weeping. I didn't think I had said anything that moving, that powerful, and I hadn't. Except that God did.
He was speaking to them through me and I was overwhelmed. My church sisters and I administered more prayer, more grace, more power, and more tissues.
Then they walked in, the shy beauty and her sister, and they sat in the very front. I almost jumped up and down with excitement. She was here and she needed to be, although I didn't know exactly why. I greeted them, trying to hold in my geeked-out excitement. They filled out their assessments, ate lunch, and went through the rest of the day.
————————-
I was wrapped up in worship, feeling such fulfillment and joy over what God had done this day. What answered promises, what vision cast, what kind and gracious surprises from God. He didn't fail. He did what He said He would do. When I looked over and saw the same sweet girl, crying in her seat.
I asked the Lord if I should approach her and felt like I should, so I made my way over. I asked if I could pray for her. She shispered "yes," through her soft tears.
As I laid my hand upon her, I felt a void–then I saw in my mind's eye–a cavern, empty and dark. I kept praying for her and the Lord guided me. He revealed to me that she was hurting from so many broken friendships in her life. I paused from praying and asked her if this was true. Her face was full of confusion and bewilderment as she answered me…"Yes," she said "It's always been that way."
"Well not anymore," I told her, "God is changing that. God does not want you to have broken, hurtful, unhealthy friendships anymore. It changes today." Then I prayed a prayer led by the Holy Spirit, for freedom and hope for her. I handed her a tissue when I was done praying, hugged her, and walked away.
At the end of the day, I saw her and her sister in the foyer. She looked at me and her eyes immediately welled-up with tears. I smiled at her and waited. She stuttered to get the words out…
"How…how did you know all of that? How did you do that?" she asked.
"I didn't," I said, "The Holy Spirit did."
"I…I don't understand," she continued.
I hugged her and told her that God was capable of speaking to her and that if she wanted to know how to hear Him, she need only ask.
And I pray that she will. I pray that she will know in her bones, beyond all knowing, that Jesus is real and He cares for her. I pray she will know that this wasn't some parlor trick, but rather an invitation from the Living God to invade her life and take up residence in her.
That is my prayer…among so many others from that day. Where God answered prayers in such specific ways, He has also led this introvert to pray differently–that I too, would be more invaded by Jesus. That I would let Him into my personal space, let Him breathe my air, let Him break my boundaries…
Wide. Open.
And I do and I will, welcome the invasion of Jesus.
Reactions? Thoughts? Questions? Prayers? Please share.