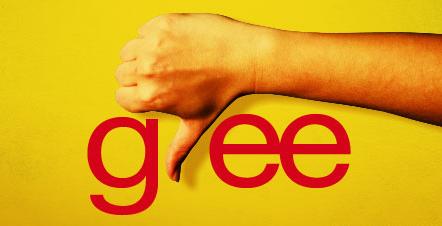 Yesterday, the always funny Jon Acuff of Stuff Christians Like, wrote a post about the two possible responses that Christians might have to Glee. Either we love it or we hate it. There is no middle ground.
I, for one, have never watched Glee, not even a tiny little bit. I am somewhat proud of my lack of exposure to the phenom that is Glee. I have resisted many a trend–Lady Gaga, leggings (including the now infamous jeggings), and babywearing.
Why, you may ask? Well, I pride myself in being a reject. Which is just another way of saying I'm not a follower, at least not by nature. To be clear, I am not a leader by nature either. I'm more of a neither. I live comfortably somewhere in between, as a kind of floater, free-agent, non-committal-type.
Which explains why I have never seen Glee. It's not that I think it's bad or lame, I just tend to avoid (be it consciously or not) anything that is hyped up, popular, or mainstream. That is, until I get a taste of something and I realize that I actually like said pop culture trend. Take, for instance, the story of me and a very famous horse…Some of you might remember a few years ago when the movie Seabiscuit came out. I would see the commercials showing the preview for the film and scoff at the television. A movie about a horse? And a horse named Seabiscuit no less? Umm, thanks, but no thanks. Later, my boyfriend (who is now my husband) asked if I wanted to watch the poorly named horse movie one night. I declined. I explained how I figured it just couldn't be good. Too many people had seen it. It was too hyped up. It was sure to be a let down so I would just save myself the trouble and avoid it all together.
"It's really good," he explained, having already seen it. "You'd actually like it." I still refused. Weeks later, however, with my cable shut off in my apartment (I was a starving college student) I rummaged through a bin of bargain DVDs at Wal-Mart. There was Seabiscuit staring up at me, begging and whining for me to take him home. I relented. Two-and-a-half hours later I was a pile on my living room floor, wiping the stream of snot and tears from my ugly mug. I was crying out, "Run Seabiscuit! Run! Never give up!"
And there it was, I was converted from an anti-horse movie girl to the world's biggest Seabiscuit fan. So what's the moral of the story? I'm not quite sure, except to say that I have realized: the more resistant I am to a popular trend or phenomena, the more (if given a chance) I will inevitably love that particular thing. I guess the reason is that my initial avoidance of something because it is regarded as "cool" is sort of a prideful response. I say I don't like things just because someone else does. What kind of loving, gracious person does that? Sheesh, I sound like some fun-squashing troll.
I want to learn how to enjoy what I want to enjoy regardless of its inherent or perceived coolness. I want to love zombies because I love zombies, not because some geek on Ain't It Cool News told me to. And if I secretly have a desire to try leggings and, yes, even jeggings, I should just go for it! I should throw caution to the wind and pull those unflattering stretchy pants up high! Really high!
Now excuse me while I check my local listings to find out when this darned Glee is on…
Do you ever find yourself resisting something just because it is popular? What are some trends you avoided but then found were actually great?
(post image courtesy of adamthinks.com)