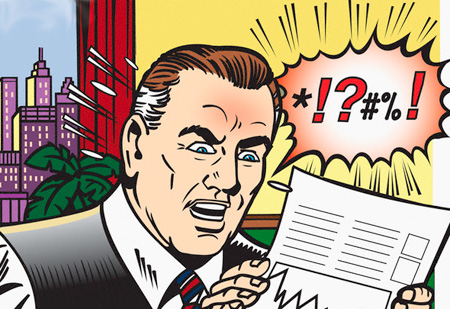 Profanity is a long standing phenomena in history. Cussing, obscenities, cursing, swearing, dirty words–whatever you want to call it–exists in all languages.
Profanity in American culture has become commonplace, from our movies to our televisions. I have even heard children under the age of 6 cuss like sailors while out grocery shopping with their mom. Potty mouths are everywhere, it seems.
Americans love their curse words and they love to use them, but what about Christians? Should believers be out and about dropping F bombs? Is Christian cursing prohibited? Or are we free to cuss away?

Okay here's the deal: I've been known to occasionally let a few profanities slip out. (Don't judge me, just pray for me.)
I've said the occasional curse word in the heat of a stressful moment and here's why: It feels good sometimes. Every once in a while, a situation arises where it seems that a curse word can better express frustration or even anger better than any other word might.
According to Wikipedia, studies on swearing have been conducted that prove there is actually a pain relieving effect. "Swearing is a widespread but under-appreciated anger management technique." So that's why when I stub my toe,  a swear word sometimes enters my mind. I don't usually speak it, but it's there, nonetheless.
Which leads me back  to the question of believers dropping F bombs. The Bible has some rather colorful language in parts. For example, "they may eat their own dung, and drink their own piss" and "Behold, I will rebuke your offspring, and spread dung on your faces, the dung of your offerings…"
I did find a few websites, while researching for this post, whose soul mission is to list every possibly profane word in the Bible, so as to discount Christianity. The strong language is there, however, in the Bible, and God used it often. However, we are not God and, when a curse word escapes my lips, it is not usually because I am foretelling of the fall of a nation or a ruler (actually it is never because of that). It is usually because, as I said earlier, I stub my stupid toe.
So, is cursing a heart issue rather than purely a language issue? One linguistics study conducted found that the more a person curses, the less of a pain relieving effect it has on the body. So suddenly, if you start cursing like a truck driver, you can't claim you are doing so for its therapeutic effects.
Christians do not take the Lord's name in vain because we do view that as a heart issue. We know that blasphemy is sin and nothing less. Many Christians, however, view cursing to be on par with blasphemy–both are offensive and both are sin. I'm not so sure, though.
Paul wrote to the Corinthians in his first letter, "But food will not commend us to God; we are neither the worse if we do not eat, nor the better if we do eat. But take care that this liberty of yours does not somehow become a stumbling block to the weak."
Paul was referring to what a man eats, but I believe the same principle can also be applied to cursing. We have liberty in Christ since we are no longer under the old law. However, we are not to participate in behavior in front of others that would cause them to stumble in their own faith.
Some of the Godliest people I know cuss on occasion. They have done so in front of me, knowing that it will not cause me to stumble. They have told stories, jokes, or even expressed frustration and done so with a colorful expletive or two. Let's be honest, too. Some curse words are highly offensive. Others we deem more socially acceptable in society. One person might drop an F bomb only in certain company (or never for that matter), but would have no issue saying "dammit."
Don't get me wrong: I am not a proponent of believers, even in the presence of those who would not stumble, to be filing the airspace with every dirty word that comes to mind. What comes out of our mouth, is to some extent, a representation of our heart. My cussing slip-ups are usually not actual slip-ups in the first place. Beyond the occasional toe-stub-cuss-word, I mostly choose to swear because, well, it makes my story funnier or adds emphasis.
I see why some believers choose to not curse under any circumstance. I see, too, why some Christians do occasionally swear and do not view it as sin. I will admit that this issue is a bit of a gray area, but I like gray areas. How about you?
Do you think Christians should curse, can curse, or should never curse? Do you think it is sometimes permissible or always offensive? What is your funniest cussing story?
post image here