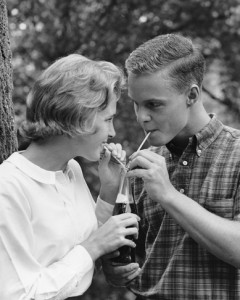 Everyone flirts or at least they should. Married or single? Doesn't matter. Some people are better at it than others, sure. I'll admit, too, that some people have no idea that their glance, eye contact, or smile could even be constituted as flirting,  but it is flirting nonetheless.
The truth is, in today's culture of hopping in bed, STDs, and one-night stands, flirting is a lost art form. More than that, many Christian women I know are downright scared to flirt, for fear of being seen as a harlot (or floozy, or tramp, or insert description of a loose woman here: _______). And men simply don't know how.
Flirting is needed, however. Flirting is all part of the game, whether single or not. It's time to re-learn how to flirt. It's time to restore the lost art of flirting…
The Who
As I stated before,  flirting is healthy for both single and married people.  If you are single, flirt with other singles. If you are married, flirt with your spouse.
It turns out that even animals instinctively flirt. Mice, for instance, according to Pyschology Today, twitch their noses and tilt their back in order to catch the eye of another available mouse. We, too, are hardwired for flirting and, done in a fun and responsible way, flirting proves useful.
The Why
Since flirting is instinctive, you think that would be reason enough. Unfortunately, flirting has received a bad rap over the years, especially within Christian circles.
Yet, many of us flirt without realizing we are doing it–a lift in our voice, a tilt of our head, a gesture of our hand, the toss of our hair (hopefully it is not you men, tossing your hair).
We can gain a whole wealth of knowledge through flirting. Psychology Today writes:
"…flirting is nature's solution to the problem every creature faces in a world full of potential mates-how to choose the right one. We all need a partner who is not merely fertile… [but] healthy enough to promise viable offspring, provide some kind of help in the hard job of parenting and offer some social compatibility."
Besides helping us weed out the duds from the studs, flirting within marriage can add a whole dimension to fidelity. Flirting can rev up your friendship,  personal interest, and, of course, sex life within marriage. Flirting in marriage should never die. It's one way of continually telling your spouse that you are still into them and that you chose wisely.
So get to flirting already! Oh wait, you're not sure how. I understand…
The How
Men. Science says men engage in rather, well, baboon-like flirting behavior. Sorry dudes, but it's true.
According to one study, the men "…arched, stretched, swiveled, and made grand gestures…Their swaggers, bursts of laughter and grandiose gestures were an urban pantomime of the prancing and preening indulged in by male baboons and gorillas in the wild."
Try this to start, however: Say "Hi." Yes, a strong "Hi," along with eye contact and a smile, can go a really long way with a woman. Get close to her, but not creeper close. Lean in. Act interested. Ask her about herself. Tell her she looks pretty.
I know it sounds both cheesy and obvious, but you'd be surprised how few men do this and do this well.
Women. Flirting with a man is pretty simple. Smile. Laugh at his jokes. Toss your hair (yes, really I'm bringing up the hair toss again. I know it seems lame, but guys respond). Gaze into their eyes. Tell him he is capable, strong, and masculine (in a cool way).
Oh, and wear heels. No, I don't wear heels often, but the same study said women in heels, "swayed their backs, forcing their buttocks to tilt out and up and their chests to thrust forward." Ha! Um, I'll pass on the buttocks-out business, although I think some women do this without realizing–and that's the point.
Flirting is ingrained in our psyche and it helps us determine a viable mate, yes. But it is also fun and, when done respectfully, completely appropriate and worthwhile.
The Song of Solomon is rich with the story of flirtation–the look, the first words, the touch and, well, you know the rest. Let's just hope the final act of flirtation is between a man and wife.
So go ahead, flirt it up. Restore to life the lost art of flirting.
How do you feel about flirting? Are you good at flirting? Do you think flirting has a bad rap for good reason? How can Christians flirt responsibly?
post image here