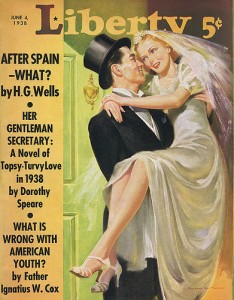 Yesterday I wrote about being single and today I am writing about marriage. What can I say, I like to spread the love around evenly.
Earlier this week, Carlos Whitaker wrote a post on the top 11 things he and his wife do to make their marriage a happy, healthy one. I loved the post and thought I would pay homage to Los Whit by writing my own list.
I have to say, and I'm not bragging…okay, maybe I'm bragging just a teeny tiny bit…but, my husband and I have a rockin' marriage. We enjoy marriage and we enjoy each other. We have a few tricks up our sleeve, too. Here are our 15 tips to a great marriage:
1. Kiss each other hello and kiss each other goodbye. Every time. Slip in some tongue now and again, too.
2. Praise each other in public. Often.
3. Set some rules for arguing. We, for example, don't yell (although I have been known to break this one from time to time), we pray beforehand, we make sure we are touching one another (it's really difficult to be mad when you are holding hands), and we pray when we are done.
4. Have a date night. If you could only incorporate one thing, this is it. It doesn't have to be every week, but prioritizing time alone (without kids, if you have them) is like a magic marriage elixir. Abracadabra!
5. Do it. Yes, I mean "it," at least 2 to 3 times a week.
6. Speaking of "it," be sure to grab some booty or other body part for that matter daily. It's called flirting or, heck, foreplay. Oh, and bonus points for coppin' a feel in front of the kids. They hate it, but they love it.
7. If you have kids, give them away, at least for a night. I mean it: leave them. Yes, even that little baby. Don't wait until they are 16 to have a night away or a vacation together. Your kids will thank you and so will your satisfied spouse.
8. Get it out–your crap, that is. If something is bothering you, don't let it fester. Bring it up, hash it out, and move on.
9. Find something you really like to do together and, no, doing "it" doesn't count. Maybe it's football, or traveling, or spelunking. My hubster and I love to ice skate together…um, no, we don't ice skate. Can you imagine? We love movies. We love eating out. Those are our things. Find a thing, youself.
10. Be each others' biggest fans. Support the others' dreams. Cheer one another on. Wear a short pleated skirt and rock pom-poms if it helps.
11. Schedule sex. No, it's not sexy, but if your life is too busy and sex falls to the wayside at times, then putting a little "doing it" notation on your calendar is necessary. Never get too busy (or too tired) to say "yes."
12. Pray for each other. A lot.
13. If you messed up or sinned, admit it, and say you are sorry. Asking forgiveness goes a long way in marriage.
14. Say, "I love you" everyday, more than once a day, even when you don't feel "loving."
15. Serve one another, everyday, even when you don't feel like serving.
Okay, what would you add to the list? If you are married, what works for you? If you know happily married couples, what works for them?