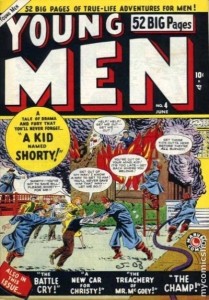 Welcome to Wednesday–a day devoted to discussing two of my favorite people: men and women.
I think I know men pretty well (Do I sound like I'm bragging…'cause I am). Women tend to think men are much more complex than they actually are.
Women, on the other hand, tend to be a bit more complicated…or at least we like to pretend we are.
Looking back to when I was younger, however, I wonder how much of a grasp I really had on the opposite sex. I've learned a lot since high school and college. Most of those lessons have come the hard way.
What I know about men now, I wish I had known sooner. Here's 3 things I wish I had known about men, back then…
1. Men are actually quite simple. When you are a 16 year old girl with a wild crush on some hot young stud, they seem like the most intricate, complicated, bewildering person on earth. How could I possibly unravel the depths of  "Brad the Hottie?"
Truth is, there really ain't much to unravel, as it were. Boys are boys and men are, well, bigger boys. Same rules apply.
2. Male relationships will never, can never, and are not supposed to fill some daddy-void in my life. My constant need to have a boyfriend came from my gaping hole of a father-figure.
I spent waaaaay too long wrapped up in boys and year-long relationships, where what I should have been doing was enjoying life. Thankfully, God did make this fact evident to me early on in college and while it took me a while to cut the boy-ties, I eventually did.
That period of being single and living on my own was beyond freeing. I was suddenly struck with just how strong my almost life-long need-to-have-a- guy-desire had been. I hated that feeling and vowed I would never again seek out a relationship due to my dad issues.
Two years later, I met my husband. Cha-ching.
3. Men do not think about sex the same way women do. Okay, now this sounds obvious, right? But you'd be surprised how many young women, like myself at the time, were swindled into thinking that we were suppose to be just as sexually charged and sexually aggressive as any given dude on any given day.
My generation has bought the lie (hook, line and sinker) that women should be every bit as motivated by sex as their male counterparts, which means we need to be sexually promiscuous.
Bummer, 'cause it just isn't true. Of course women like sex. Of course women need sex. Of course we are supa-sexual…yadda, yadda, yadda. Women, are not however, like men in the sex department. We aren't like them at all, in fact, so why would the area of sex be any different?
Thankfully, I quickly latched onto this idea once I was married. My husband is happy about that fact, that's for sure, because I understand his sexual needs as well as my own…and that's kinda sexy.
The world of men and women is made out to be so complicated and sure, sometimes it is, but really there isn't too much to learn. I wish I had known back then what I know now about men, but hey, better late than never.
What about you? What do you wish you had known about the opposite sex back then that you know now? How would having this information have changed your interactions or relationships with the opposite sex?