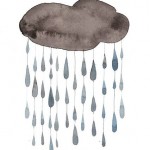 Last Friday was my son's 3rd birthday. The next day was when we planned on celebrating with family and friends. I woke up Saturday morning a little behind schedule. I ran around the house trying to get myself and the kids ready. Little did I know my rushing was in vain.
My husband, kids, and I piled in the car. We were headed to a local pizza spot and arcade around the corner–any 3 year-old boy's dream birthday location.
There we sat at a red light waiting for it to turn green.
My son suddenly said, "Daddy, your seak belk." Translation: seat belt. My husband had left the house without putting it on. "You're right, buddy. Thanks," he said as he reached down and clicked his seat belt into place.
15 seconds later, an SUV slammed into our car.
In every other accident I have ever been in, there has always been warning. I could foresee the collision about to take place. This accident left us with no warning. We were sitting at the light about to celebrate our son's birthday, the car loaded with gifts and a chocolate robot cake when–BAM!
It felt like the most violent ride I have ever been on. I heard metal careening, glass breaking, a scream, a whimper. It felt as if it happened in slow motion and, yet, it was over in a split second.
As my head flew forward, followed by my torso and then backwards again, I looked down at my belly. I saw my 8-month pregnant stomach seize up from the force and the pressure of the collision.
Immediately, everything seemed to fall silent, until I heard my husband's voice. "Oh my God," he said. He looked up into the rear view mirror. "Oh sir!" he said, as if the man who had just hit us could hear him. He looked back to see if the kids were okay.
I looked down, as if remembering that I was pregnant and I grabbed my stomach. I clenched it tight as though my hands could somehow protect the child inside, after the fact.
My husband sprang from the car and grabbed our son from the backseat. I sat frozen for what seemed like an eternity. I heard my daughter crying. I made my way out of  my seat and reached her. I think I said "It's okay. It's gonna be okay."
My kids were now standing on the sidewalk and I dropped to my knees, still clenching my belly and I began to cry. I was scared, not for myself, or even my husband or my kids. They seemed fine. I was scared for the baby growing inside me. Isn't it my job to keep this baby safe?
My husband appeared and began to pray for me. He placed his hand on my belly. I don't remember exactly what he said…"peace, presence, Lord, protection…" But I do remember this: "Lord, help Nicole to know that this is not her fault."
Does my husband know me that well, did the Spirit just speak that to him, or both? How did he know that I would sit blaming myself as if  I had any control over the man driving 40 mph into the back of our car. How did he know I would think, if only I had left earlier by myself to set up for the party, but I had been running late. If only I hadn't recently changed my daughter's car seat in order to make room for the coming baby, perhaps she wouldn't be so sore now. And on and on it could go….
Eventually the EMTs arrived. "We're just taking extra precautions because of the baby," they said. Fine. I had to ride in an ambulance. Not my favorite moment, but in reality I was too shaken up, weak, and disoriented to fight it.
We spent 4 hours at the hospital. The baby and I were monitored, tested, examined. We both passed with flying colors. Jonathan felt the letdown of adrenaline at the hospital, as well. Once he left husband/father mode–tending to each of us in superhero fashion–he began to crash.
Doctors checked him, too, and he eventually began to feel better. We sat there in our hospital room replaying what we could and also making jokes if there were any to be made. But mostly, we were thanking God. "It could have been so much worse," we uttered. "Praise God we  are all okay."
By the time we made it home, the soreness had begun to set in. We moved slowly and tenderly. Ribs, neck, back, wrists swollen or aching.When we walked into our house I noticed our kitchen's chalkboard fridge. A week or so earlier, my husband had written: "HE REIGNS."
Around it, however, had been drawn a raincloud with rain drops streaming down. We both looked at it and smiled. So simple, yet so true. Sometimes it rains. Sometimes it actually pours…but He Reigns. He. Reigns.
When was a time when God reigned in your life despite the "rain" of difficult circumstances?