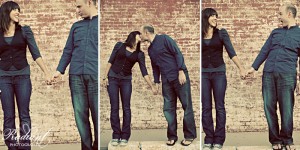 This post idea is stolen…ahem, I mean, borrowed from Bianca Juarez. Besides telling you what I think it must be like being married to me, my husband is also going to give his opinion. That's right, my husband is going to reveal what it is really like to be married to Nicole Cottrell. We wrote our portions separately, so neither of us knew what the other had to say…until now. I'll start.
I imagine being married to me must be…
A bit challenging. I mean, I came to this marriage with lots of baggage. A whole trunk full, in fact. I can also be a bit impatient (or a lot impatient), depending on the day.
I'm moody, which I hate and God is pruning away, one painful branch at a time.
My husband says, though, that I am one of the most passionate people he knows. I think my passion can come across as aggressiveness or hostility, especially when I am talking about the Church or the Lord. I think that must be tiring at times.
I'm also an introvert posing as an extrovert, which I know is difficult sometimes for my outrageously outgoing, extroverted husband.
I am deeply loyal, though. I care so much about what my husband does and the things he loves. I hope he feels encouraged by that fact.
I'm prone to laziness, but fight that part of my nature, which again, must frustrate my organized, punctual, driven hubster.
I make him laugh, too…all the time. I am my funniest with him. He gets my humor and laughs alongside me. We laugh a lot together.
I suppose being married to me is a lot like a circus. It is a spectacle–a grand show. There are parts that make you "ahhh," parts that make you "oooh," parts that have you holding your breath, and parts you could live without. Yet, you tolerate the parts you could do without because you just love watching the show.
But that's just what I think. Here's what Jonathan says…
Nicole's telling me not to be too "gushy," because apparently, that's what it's like to be married to me–I'm gushy. She's also commanding that I be honest. So I will be. Here it goes: being married to Nicole is easy.
I'm not saying that marriage is always easy, or that I only love being married to her because of that fact, but that's the best word to describe the normative experience of our 5+ years–easy. I want to be around her. Like, always. She's fun. Our personalities don't clash–they just mesh. They work. They blend. And I'm thankful for it. Every. Day.
Also, being married to Nicole is kind of like walking around a concert with backstage passes. It's like I walk around with that dangling little badge around my neck, saying, "Yeah, I'll spend some time with you concert-going folks, you fans, but I get to spend time with the rock star herself. Yep, Nicole Cottrell. Nic. Nikita. And oh yeah, we're an item. You heard me. A serious, 100% item. No lie."
It may sound like I'm being a bit silly here, but I'm not. In fact, we just want to a dinner reception tonight and I love introducing her to people. It's like bragging without having to saying a single thing.
Last but not least, I should probably get serious for a moment. Being married to Nicole is a complete blessing. God paired me not only with a woman that is easy being married to, and awesome being married to, but someone who is my partner in ministry. Yes, she and I are different–our personalities are pretty opposite, actually–but we are heading the same direction, in love with Jesus, and we spur one another on. What she's doing here on Modern Reject simply blows me away. And I'm doing my own things, too.
But God paired us up for some big things, and I'm excited to live that stuff out with her. I'm thrilled she's the mother of my children. And I'm crazy happy that we have the rest of our lives to hang out and get to know each other. Because, you see, I admire my wife. And that is something you can't just fake. God gave me an amazing woman to love and lead and serve. You know her as Modern Reject. I know her as Nicole. My wife. My love. (P.S. Was that too gushy?)
So what's it's like being married to you? Or if you're not married, what do you think being married to you would be like? What would you like your spouse to say?