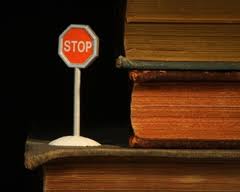 There used to be a time when I memorized scripture at a furious rate, filling myself up with verse after verse, like a kid with birthday cake.
Now, I glance at my Bible from time to time. Or read, really read, once a week wherein God gives me some perfectly timed, needed encouragement or admonishment. I've ditched the church-imposed idea of morning/daily quiet times. 
But, some of us have begun to reduce the Bible to a series of catchphrases or quotes. As if the Bible is analogous to the latest bestselling self-help book:
7 Easy Verses to a Better Life
Read the Bible to Win at Life
Success: It's only 5 Short Verses Away
Because the Bible is a lot of things, but one thing it is not is the Christian version of self-help non-fiction.
More than that, when crisis strikes, as it always and inevitably does, that is when so many us begin frantically quoting scripture–pulling out all of the usuals:
For we walk by faith, not by sight.
I can do all things, through Christ who strengthens me. 
For I know the plans I have for you," declares the Lord, "plans to prosper you and not to harm you, plans to give you hope and a future.
We begin quoting verses we haven't read in months, maybe years. We tend to cling to the Bible and its contents as a miraculous cure-all, imbued with the power to "fix" our messy situation. In that moment, the Bible becomes our magic wand, our rabbit in the hat, our hail mary, reduced to nothing more than superstition.
And why do we read the words of God? Why read the Bible in the first place?
We are not called to be Bible-quoters. We are called to be over-comers.
This Christian life isn't simply about quoting the Bible, it's about becoming the Word.
In the beginning was the Word, and the Word was with God, and the Word was God.
And if Christ was the Word made flesh, and we are His body, then we too are living by the Word.
The Living Word itself–that is Jesus–lives in us.
"You are strong, and the word of God abides in you, and you have overcome the evil one." 1 John 2:14
Think on that. Let that trip you out for a minute…
It is not enough to reach for scripture when trouble comes or when things feel impossible. It is not enough to casually and callously throw around scriptures in an attempt to use them as a bandaid for our hemorrhaging lives.
Because it is so much more…
It is not a band-aid. It is not a quick-fix solution. Scripture is able to perform spiritual surgery–slicing deeply to the root of our very being.
Because when we reduce the Bible to a self-help manual and a patch job we are acting as "hearers" of the word and not "doers" of the word (James 1:22). We cannot simply fold scripture into our old lives when necessary. We must recognize instead, that we have  been given completely new lives.
We are no longer slaves to problems, but instead are freed by His promises.
For all the promises of God find their Yes in Him. That is why it is through Him that we utter our Amen to God for his glory. 2 Corinthians 1:20
For we no longer live on the teetering edge, bound by fear, and desperate for hope. We live our lives on the solid Rock,"rooted and built up in Him and established in the faith, just as [we] were taught, abounding in thanksgiving." Colossians 2:7
It's the difference between quoting scripture only when a need arises or letting scripture transform us on an ongoing basis. One is reactionary, the other proactive. One is patching holes, the other being made whole.
Not just Bible-quoters, but over-comers. Not patched up, but wholly new.
Thoughts? Reactions? Do you ever use the Bible as a quotable self-help book? Do others around you? How do we stop?