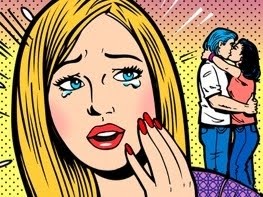 Today is Wednesday, my favorite day of the week because I get to talk with all of you about sex, marriage, men, and women. Woohoo!
Last week, I promised you a fascinating post asking the age old question: Why Do Men Cheat? I have a few theories, but just for fun (before we get into it), here is one answer from one of my all-time favorite movies:
Rose: Why do men chase women?
Johnny: Well, there's a Bible story… God… God took a rib from Adam and made Eve. Now maybe men chase women to get the rib back. When God took the rib, he left a big hole there, where there used to be something. And the women have that. Now maybe, just maybe, a man isn't complete as a man without a woman.
Rose: [frustrated] But why would a man need more than one woman?
Johnny: I don't know. Maybe because he fears death.
[Rose looks up, eyes wide, suspicions confirmed]
Rose: That's it! That's the reason!
Johnny: I don't know…
Rose: No! That's it! Thank you! Thank you for answering my question!
Okay, now on a serious note, as much as 50% of men have admitted to having extramarital affairs and, even then, 81% of men refuse to admit to an affair, even if their wife asks the damning question.
I think men cheat for different reasons. I am not be so narrow-minded as to think that all men are the same and cheat for the exact same reasons. Nor is every marriage identical and marriage plays a huge role in fidelity…or infidelity, as it were.
#1. Men are creatures of variety. I have discussed this before and, whether you believe this is a before-the-fall or after-the-fall nature, men still crave a varying pool of women. Whether they give in to that desire is another question entirely.
#2. Men like sex, a lot. I do think that, many times, cheating occurs for the base reason of sexual gratification. They see. They want. They take. However,  I suspect this is not the case for most cheating men. There are other factors at play, perhaps, such as…
#3. Sex at home just ain't what it used to be. If a man is not receiving a healthy dose of action at home, he might be more tempted to go and find sexual satisfaction elsewhere. Of course, the slowing of sex at home is not an excuse for a man to go and find other means. However, I am of the thinking that the more good sex at home, the less out-of-marriage sex outside the home.
#4. General dissatisfaction at home. Okay, this one covers a whole slew of reasons, but all valid ones. Perhaps he is bored. Perhaps his wife has neglected taking care of herself and is now a faint memory of the hot thing she used to be. Perhaps his wife commits one of the ultimate marriage sins and disrespects him consistently.
Disrespecting a man is like a repellent. Want to keep a man from you, be disrespectful. Want to continue to drive him away, possibly into the arms of another woman? Keep being disrespectful. Point is, any type of dissatisfaction in marriage can move from being a small problem–an annoyance even–to a full-blown affair. To quote When Harry Met Sally, "Marriages don't break up on account of infidelity. It's just a symptom that something else is wrong."
#5. Forbidden fruit. I sort of hate that expression of "forbidden fruit," but it gets the point across. We all, men and women both, like the thrill of having that which is forbidden and off-limits, that is, if we don't know Christ. A man rooted in Christ is less likely to be pursuing or tempted by the "forbidden." Instead, a man after God's own heart, is more likely to resist temptation and pursue righteousness and, thus, an intact and monogamous marriage.
I'm sure there are dozens of other reasons why people believe men cheat. I acknowledge that there is plenty more room in this list. So have at it–what would you add to the list? Why do you personally think men commit adultery?
Pssst: Next Wednesday is Why Do Women Cheat, so check back. I'm no sexist, gotta cover both sides. Wink, wink.
post image here