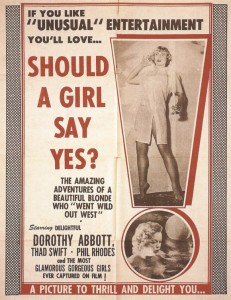 Having sex in marriage is important. Necessary. Crucial.
Women need sex to feel emotionally connected. Men need sex to feel loved and desirable.
But as most married women will tell you, marriage sure slows down the frequency of sex and sexual mood. Whether it be long work days, stress, children, or other daily distraction–a woman's sexual impulse can be sucked right out.
All too often in marriage, women find themselves saying "no" to sex much more than "yes." There is even the mythical male who turns down sex with his wife… a very rare breed, indeed.
I have heard it said before that women should just go ahead and have sex, even when they don't feel like it. I agree with that sentiment and here's why:
I know some people might think this idea sounds downright archaic and misogynistic. But, here I am–a modern woman–telling other women to just get busy, even when the urge isn't there.
Reason being, marriage convinced me of the male need for sex. Dennis Prager has discussed this topic on his radio show quite frequently. He refers to women pulling the old famous sex shutdown line: "I don't feel like it." His response to that excuse makes me smile. To paraphrase him:
In life there are countless things we have to do each day, even though we "don't feel like it." We go to work, pay our bills, call that one annoying guy, get to bed at a reasonable hour, even though we don't necessarily feel like it. Why should sex be any different?
Women have somehow hijacked sex and planted this notion in their minds that sex is always suppose to be romantic, or glamorous, or that they must be totally 100% "in the mood" in order to have it. If these prerequisites aren't met, well then, no sex.
I took a pre-marriage class with my husband and one of the week's topics was sex in marriage. A sex expert (such a cool job title by the way) and counselor taught us that, on average, men need sex 2 to 3 times per week–not want sex twice a week, but actually need sex (you're welcome gentlemen. I'm spreading the word).
For men, sex is a stress release, a wanted distraction from their busy lives and responsibilities. It is also how they feel loved from their wives, which, if you ask me, is sorta important.
On day 13 of turning down your husband, men don't only feel pent-up stress, but they also begin to feel unloved and undesirable.
My friend Carrington just wrote a post challenging women to say "yes" to sex more. I have practiced this and, let me just tell you that it makes a difference in my marriage. The hubster and I have better quality and more frequent sex now than ever (too much detail? Sorry, hope you're not blushing).
If I'm not up for being intimate in that exact moment–usually 11:00 o'clock at night after a day of being covered in toddler slime, then I will reschedule for another time. Which is a reminder to men–timing is important. Don't ask her at the end of a very long, tiring day. Ask her when she feels most in the mood, when the iron is hot, so to speak. For more tips, gentlemen, on improving your sex life, check out this post.
Ladies, commit to trying to say "yes" at least three times in a row. Set the mood. Take a shower. Pray. Lock yourself in the bathroom for 10 minutes away from little ones (I highly recommend this one). Do whatever you need to do to say "yes."
The more I go ahead and have sex, even when I don't feel in the mood, the more God has actually blessed our sex life. And guess what, when I say "yes" more, I'm much more apt to get "in the mood" faster, too. In fact, I have the "I'm not in the mood" thought run through my mind rarely these days.
So, when he asks, pounce on him. Or heck, don't wait for him to ask… pounce first, ask questions later.
Do you agree or disagree? Do you think women should say "yes" even when they might not be in the mood? Have you practiced this?  What has made a difference in your married sex life?