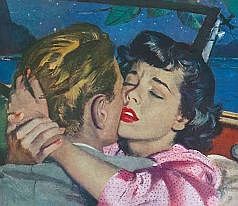 Last Wednesday on He Said/She Said, I asked, why do men cheat? I then gave 5 reasons why I think men are tempted to fall into adultery.
Today, we are shifting over to the ladies. Adultery among women is up significantly from years ago. More and more women today are cheating. Some believe this is true because of more lax adultery laws against women and the topic of adultery being more openly discussed in general.
Perhaps this is true, but I suspect  that  some of the very same reasons men cheat, compel women to cheat, as well. There are also more complex reasons as to why more and more women are seeking adulterous relationships. The reasons may surprise you…
Current research suggests that one in five women has had an affair at one point or another, making that the highest rate in history. Some statistics show the percentage of women cheating is now equal to that of men cheating. Scary right?
So, maybe women cheat for some of the same reasons as men, but they cheat for other reasons, too.
1. Emotional needs. Women are emotional. We know that. It is not necessarily a bad thing (except when women use their emotions to manipulate situations to, for example, get their man to buy them that Mac they have been eyeing… *ahem*). Women desire emotional connection, intimacy, and even friendship in their marriages. Women, according to one study, are much more apt to seek satisfaction outside of a marriage in order to find happiness. Whereas men can be relatively happy within their marriages and still fall into adultery.
2. Revenge. I don't know how often this might actually occur–and this is just an observation–but it seems that it has become more popular for women to cheat in order to exact revenge upon their spouses. Say the husband cheated, well, the wife decides she's going to go out and do the same.
3. Sexual exploration. Many women have bought into the lie that, if they were married young and/or have only had sex with the man they are married to that, somehow, they have missed out. Movies like Eat, Pray, Love feed women a stream of self-focused, self-indulgent, irresponsible drivel, convincing women that they need to explore their sexual desires…outside of their marriage.
4. Dissatisfaction. I mentioned dissatisfaction being a possible motivator for men to enter into adultery and I think it applies to women, as well. "Dissatisfaction" is really just a catch-all word to represent anything in a marriage that might be a potential warning sign and often goes hand-in-hand with #1. Perhaps a woman is lonely, mistreated, or ignored. Perhaps her husband doesn't fulfill her sexually ( this can happen, so I've heard). Like I said before in last week's post, dissatisfaction that leads to infidelity is just a symptom that something else is wrong in the marriage.
5. Trying to be a man. This is perhaps the biggest lie being fed to women and one that is, in my opinion, very much responsible for the rise in adultery among women. Women's liberation and its current message to women is that men and women are actually alike. Generations of women have been told that they can do anything a man can do and that, in fact, they are no different from men. So why wouldn't women begin to "act more like men", which then manifests itself in destructive ways, such as adultery?
Women believe if they express their sexual needs, they are acting like  a man, which is alright, since they've been told they are men. How confusing and harmful. Women want to compete with men and, in doing so, maintain the mindset: "Well, if a man does it, so can I."
These reasons are of course not the only reasons women commit adultery, but they are certainly a few worth considering. So let's open up the conversation…
Why do you think adultery is up among women? Why do you think women cheat? Do you believe this problem will continue to rise?
post image here