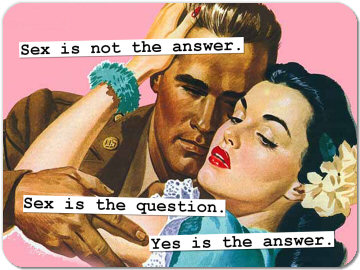 This is a guest post from none other than my hubster, Jonathan, in follow-up to last week's first-parter. It's a doozy.
Well I'm glad to know that my wife doesn't think I'm a pervert. I would've guessed that, but it's always good to have her own written words to point back to in our future discussions about sex. Ah, the joys of a blogging wife.
But what about you poor fellas out there that don't have my same fortune? You men out there with wives who think you're just a plain sick-o that thinks about sex "all the time" and happens to be "in the mood" at the absolute worst times. Or perhaps you have a wife that gets the general gist, but could still use some coaching on what you want in the bedroom. This one's for you, gentlemen.
Your mission, whether you choose to accept it or not, is to help your wife understand your sexual needs and wants. Easier said than done, right? Well, let's brainstorm, guys (and ladies, we'll even let you listen in and provide your thoughts, too)…
Better Sex
Before we start, let's identify the goal of helping your wife understand your sexuality: better sex. It's a fairly straight-forward goal and one that I'm sure you support wholeheartedly. But one thing I realized very early on in marriage–and something I keep coming back to–is that the goal for better sex isn't just me getting better sex, but that both Nicole and I come to a place of mutual understanding in which we're both contributing to better sex. In other words, it's not just about her understanding you and that you're not a pervert, it's about you understanding her, too.
God had a beautiful plan worked out in making men and women so different, and as us neanderthals better understand that plan (though it's inevitable that we'll never fully understand it), the better our chances at contributing to and enjoying a more satisfying sex life. In fact, your likelihood of a better sex life will increase by 13,472.8%. (Actually, I just made that up, but I'm sure it's in the vicinity.)
With that goal in mind, here are three ways to help you illuminate your sexual nature to your wife.
1. Establish a Baseline
While I would hope most wives understand the basic sexual needs of a man, I know that's not the case for everyone. I think that most men going into marriage with that assumption quickly find it to be a misinformed one. So, the first step to helping your wife understand your sexuality requires you talking about your most essential sexual needs. Keep it simple.
How often do you need sex on a weekly basis? Whatever you do, just don't say seven times.
When do you most like having sex? In the mornings, long before bed, right before you go to bed?
Be ready to talk with your wife about her needs, too, which will be very different from yours, of course.  Things like:
How can you help her get "in the mood"?  Dimming the lights, turning on some sexy music, washing the dishes, putting the kids to bed? (Like I said, very different needs.)
What are her foreplay needs, time-wise?
Is there anything else she wants to share with you about her sexual needs? This one is bound to get you extra points.
Communication is key, here, and rather than begin listing all your weird wants and quirks, start small. Be honest about your needs. If you can't even talk about those openly, it's not her at fault for thinking you're insatiable or perverted, it's you. Baby steps.
2. Define Some Goals
Now that you've mutually established your baseline needs, it's time to define some goals together. Rather than think with you know what and just blurt out something stupid, be simultaneously intentional and cautious in what and how you share. My best recommendation for sharing your sexual desires is to start by asking her. If there are any kids reading, here comes the PG-13 stuff.
What does she love about your sex life together? What would she change about your sex life?
Where would she like you to kiss her more (or perhaps, for the first time)?
What are some fantasies that she would like you to fulfill with her? Don't worry, it's love talk, not dirty talk.
The beauty of questions like these is that, by asking her first, you now have an opportunity to also share yours with her. Nicole and I recently emailed each other our list of five things we would like to experience more of in the bedroom. It was revealing… for both of us. Make your conversations about sex fun. Never stop learning each other. And once you know more about your respective wants, set some good old fashioned goals around those desires.
3. Work at It
That stupid magazine at the supermarket with 101 ways on how to improve your life in the bedroom will NOT magically transform your sex life. Better sex isn't as easy as flipping a switch. It takes intentionality. Mutual determination and purpose. Candor.
The fact is, as the years tally up in marriage, it becomes increasingly important to continue working at it. Time is not an excuse to stop working at anything in marriage, and that goes for sex, too. So, with the progress you've made thus far, be sure to:
Remember your mutual sexual needs. Schedule your sex if you have to and make it a priority. If she needs the lights dimmed, then do it. If she wants the dishes washed, then definitely do it.
Never stop learning each other. Sexual needs and wants change over time. Keep talking. Bonus points if you're talking during your lovemaking, and not just before or after.
Keep the romance alive. That starts outside the bedroom, guys. Helping out around the house? Yep. Date nights? Critical! Vacations? As much as you can.
Serve her first. You might be snickering at the reference here, but remember that it's about mutual enjoyment here, not just yours.
Make a mental (or actual) note about your sexual wants and goals. Write your sexual goals on the bathroom mirror. Make her "special requests" your screensaver at work (with SFW short code, that is). Heck, if you have to make a checklist of ways to set the mood and be more romantic, then do what you have to do.
Change things up. Like Nicole said last week, "be" the sexual variety.
Keep Talking
Nothing here is revelatory, but my point–and Nicole's–is simply to encourage you in creating an honest environment to talk about this awesome sex thing that God created. I mean, it's awesome, right?!
It would be easy to just think that I lucked out and nabbed one of the rare women who understand male sexuality better than others. And it's true–I did luck out. But that doesn't mean I still don't have a part to play in being honest with Nicole about my needs and wants. We try to mutually be intentional about our sex life, and I can promise you this: it makes a difference.
I know I'm not a pervert and I'm glad my wife does, too. Help your wife understand that you're not one, either. You might even be surprised by what you learn about her along the way. In fact, I'd bet on it.
Men, what are some ways that you've gone about explaining your sexuality with your wives? What's keeping you from being more open about your sexuality with her? What would you add–or remove–from the ideas above? Weigh in with your comments.

Women, do you feel you have a grasp on your husbands' sexuality? If not, why? If so, how did you get there? What would you add to the list above? Does anything about the process of learning each other intimidate you? Why or why not? We're all ears!

Post image here.