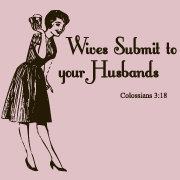 Yesterday, I talked about the issue of  "submission" and asked why it is that some Christian women have a difficult time submitting to their husbands (or even the thought of submitting to their future husbands).
Today, I'm talking about the "why" and the "how" of submission: Why should women submit and how do women submit?
Firstly, the husband is to the love his wife as Christ loves the Church, so let's assume that is the case in my discussion of the "why" and "how" (perhaps a follow-up post about what to do when a man isn't following the Lord in marriage might be helpful).
So, first off, the "why." Well, it's a pretty obvious one…
Because God said so. Ephesians 5:22 and Colossians 3:18 tells women to submit to their husbands, plain and simple. Of course, we all know that just because God's Word says something, it does not automatically make that thing easy to do or even desirable.
Beyond that, we also know that when we choose to obey God's Word, there is blessing–be it peace, unity, reward, or any other number of blessings.
We also know that obeying God's Word, in this case submitting to one's husband, is a great testimony of Christ to others. When non-Christians and Christians alike see a healthy marriage functioning within the commandments of Ephesians 5, they also see the fruit of that obedience.
People are drawn to things that work, and if you're marriage works and is a reflection of Christ's love for the Church, then God is glorified.
Which leads us to the "how." If our desire is to glorify the Lord in our personal lives and, thus, our marriage, then we first must seek obedience.
Sometimes the things God has asked of me do not make sense to me or I disagree with (yes,  I occasionally disagree with God; I tell Him that, but that doesn't mean I get to be a disobedient kid), yet simply by stepping forward in faith and saying "yes" I receive God's vision.
For myself, for instance, sometimes just saying "yes" to God in the area of submission and, ultimately, my husband produces a new desire within me to do God's will.
Also, as we practice submitting to the Lord, submission to our husbands becomes easier and easier.
Having an accurate understanding of the passages in Ephesians and Colossians (as well as other supporting verses)  is also crucial. If you think God means for women to lay down and play dead, well then you might want to reread the text.
Husbands and wives are actually to submit to one another. However, the husband is designated as the spiritual leader or head of the home.
Fear or pride should not prevent wives from submitting to their husbands, because once we understand the truth in God's Word, we see the wisdom and value in it, as well.
Lastly, I think many women, including Christian women, are susceptible to the lie spun by the world which tells women we don't need a man, let alone need to submit to a man. We should pray to have God's heart and desire for submission.
I personally find great satisfaction in considering myself a modern, rather cool (or so I've been told), independent woman, who is also simultaneously reliant, dependent, and in love with God and my husband.
The Bible is full of paradoxical statements and the wisdom of man is the foolishness of God. Submitting to a husband may seem foolish to some, or downright repugnant, but to God it is wise and He will pour out blessing, as a result.
My suggestions of "how" to submit are by no means exhaustive. With that said, how do you think women can better submit to their husbands and move past the stigma associated with the word?