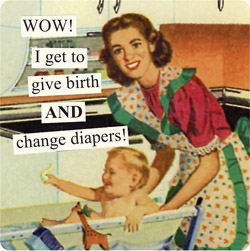 I have always disliked the term "housewife." Blame it on my background, but it has always sounded a bit like a plantation term. Or it sounds like a woman who is "kept," bought and paid for, with nothing to do but stay home and stuff her face full of delicacies.
I prefer "homemaker." I do, in many ways, make my home. However, I'm not solely responsible for my house being a home, either.
I still have not gotten used to telling strangers and people I am meeting for the first time what it is I do when they ask. Sure, if I'm meeting another Christian, I know it is usually safe to say "I stay home with my kids." But other people raise an eyebrow, scan me up and down, and then say, "Oh…" as if they are disappointed in my career choice.
That's why I've decided to come to the defense of housewives and homemakers everywhere…someone has to, why not me?
Whenever I have a man tell me that I have the hardest job on earth, I smile and feel a wave of satisfaction sweep over me. I DO have the hardest job. Every mom who stays home with her kids, day in and day out, has a difficult task before them.
Why? Well, besides the fact that children can make you daily want to give them back, you are also managing a home complete with cooking, cleaning, shopping, maintaining.
Kids, unlike fellow employees or direct reports, don't go sharing the workload (when they are little), or let you vent to them about your boss. They think they are the boss, another daily struggle each mom must fight…and win.
What I want to tell people whose faces fall a little upon hearing that I am a homemaker is this: I didn't screw up. I didn't wake up one day and look around to say, "Holy crap, how did I end up here?"
I made a choice. I consciously chose to stay home.  I chose my children over myself. I chose my home over my own wants and needs.
More than that, I am proud of my choice. Sure, some days I dream of a corner office, a secretary, and an hour long lunch break, but I'm still content and thankful each and every day that I am able to stay home with my rug-rats.
Being a stay at home mom is not the result of a series of screw-ups and accidents, but a decision to be exactly where I am…exactly where God wants me.
Yet, if someone had told me 6 to 7 years ago that I would be pregnant with a third child and a stay at home mom, I would have laughed in their face and asked where the secret camera was hiding. Come out, come out, wherever you are, Ashton.
I wanted nothing–and I mean nothing–to do with staying home.
Now, however, whenever I meet another mom who has forgone an exciting career, allowed her college degree to collect dust, traded scrubs for sweats, sacrificed money for "Mommy," I feel a twinge of pride and hope.
I know that each and every mom who has given up herself and her dreams to fulfill new and even more exciting dreams has paid the price. Dedication to one's family is not free.
So, in defense of housewives everywhere, I say to all the eye-rollers and doubters, all of those people who seem sad for me, as if I've made some massive mistake: You're wrong, I'm proud of my choice… and that's all there is to it.
What choices in life have you ever felt the need to defend, when others have judged or disagreed with your choice? If doubt ever creeps into your decisions, how do you handle it?