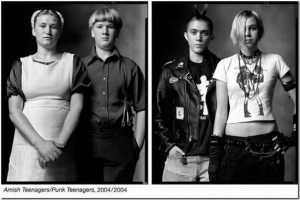 I don't like labels. They turn me off. "Emergent" this. "Reformed" that. Baptist, Catholic, Charismatic, Calvinist, Arminianist, Non-denominational (a non-label-label).
There was a time, however, when labels felt right–when labels were one way of sorting out the world. High school. Everyone wears a label in high school, whether  self-assigned or not. Carlos Whitaker wrote a post a week or so asking about high school labels. We all had one…
…Stoners, wannabes, slackers, jocks, skaters, punks, preppies, geeks, goths, loners…
My high school labels were both deserved and unwarranted. I teetered between the in-crowd and the outcasts. I had friends and foes on both sides. I was popular on a Monday and rumored to be a whore by Thursday.
It wasn't until my junior year that I finally cut ties with the people who were so desperate to label me. They had to fit me into a box. Everyone did. No one was comfortable with anyone else unless they could put a stamp on them.
Until then, however, I wore a few different labels. I was called a jock, a STUGO-ian (student government snob), slut, goody-goody, Spring Fling Queen ( the pity vote for "queen" title, when people voted for you because they did not want you to win Homecoming Queen or Prom Queen), nerd (for taking "smart kid" classes), and a hypocrite.
I was called a hypocrite as my senior year started and people began to notice a change in me. I broke up with my boyfriend of a year. I quit drinking, quit smoking, quit cussing. I was generally happier and nicer.
I had found Jesus the summer leading into my senior year, or rather, He found me. I had given my life to Him. I didn't know exactly what that meant, except that I no longer wanted to do the things I had done for so long.
My peers could not understand. How was the girl once called a "whore" now abstaining from sex? Why did the girl who never hesitated to speak her mind, even if that meant crushing someone else's feelings now speaking kindly about her supposed enemies?
Suddenly, the labels that I once wore like armor and weapons, all at once, no longer suited me. They failed to capture who I was and who I was becoming.
People whispered behind my back that I was "not really a Christian." Perhaps it was a phase or I was just trying to be trendy (Jesus was actually trendy and cool at my high school).
My parents assumed the same thing, I imagine. They thought for sure this whole Christianity thing would fall to the wayside much like my vegetarianism.
Well, here I am, 14 years later. The only difference is that, now, I wear many different labels:
I am a wife, mother, disciple, discipler, stay-home-mom, homemaker, conservative, Republican, blogger, speaker, non-denominational, "emergent" house church leader, and exhorter.
More importantly, I am called forgiven, beloved, righteous, redeemed, a minister, and a saint. Friend of the Christ. Follower of the One.
What were you called or labeled in high school or growing up? Did you wear your labels proudly or shamefully? What are your labels now, in light of Christ?