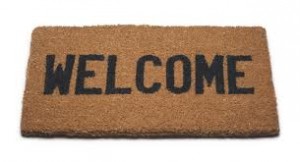 When I met my husband, he told me during our engagement that he knew God had called him to start a church. I should have gone running. I mean, I had said these exact words on numerous occasions: "I never want to be a pastor's wife."
And here I am, along side my husband and a few family and friends, starting a church. My husband's vision became my vision. God's vision became our vision.
God has given us a different sort of vision for the church He has called us to start, however. We essentially aim to go back to basics…
We are starting a house church and, prayerfully, not just a house church, but a movement–a house church movement that will resemble (and Lord willing, rival) that of the New Testament church. Where will it begin? In our home, of course.
Sound like a big, lofty, even impossible dream? Probably, but God is in the big, lofty dream business, last I checked.
Our desire is to have the focus of church shifted away from the Sunday corporate service and instead placed on small, simple, organic churches that happen to take place in a home. These house churches will be the primary meeting and gathering of the saints.
Yes, we will still have a "corporate" service, but it will not be reserved for preaching or teaching only, but also for casting vision, sharing testimonies, and, of course, worshiping together.
I won't take too much time explaining all the details here, as there is plenty of time to do that. I would like, however, to turn it over to you guys. This week on Twitter I asked some questions regarding the house church movement (which, if you follow me on Twitter, you would have known…and if you don't follow me yet, what's up?).
Here are a few questions we will begin asking our house church members that I wanted to ask you, as well:
1. What is Church?
This question sounds simple enough, but what is it really? Is it the Bride of Christ? Is it the fellowship of the saints? Is it filled with hypocrites? Is the church a building, a time from 9:00-12:00 on Sundays? What is Church?
2. What is the purpose of the Church?
Is the Church for the believer only? For the unbeliever only? For both? How should the Church function? What is the mission statement of the Church, or what do you think it should be?
3. What is a disciple?
This question seems like a trick question, but it is not. We plan to focus heavily (almost entirely) on discipleship. What do you think discipleship is or isn't? And for that matter, what is a disciple?
If you feel compelled to answer one, two, or even all three of these questions–please do. I would love to hear your opinion and thoughts.
God has exciting, albeit scary, things down the road for me and my family. We are prayerfully moving forward with eager anticipation about how and what the Lord is going to do. Thank you for your prayers.
Feel free to hit me up with any other questions regarding starting a church that you might have. Let's talk.