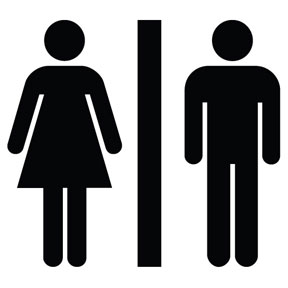 I'm a chick and I'm married to a dude. And let me just say, chicks and dudes are different. Our brains process ideas differently. We handle stress differently. We think about sex differently. You name it, it's different. I long to ask liberals who spout the idea that there is no difference between men and women if they have actually, in fact, ever met a man or a woman.
One thing you never hear is men walking around saying things like…
"Man, girls are so lucky. They get to wear makeup and get mani-pedis with no social stigma. They are the first ones off sinking ships and crashed airplanes."
It doesn't happen. Men like being men. They prefer being men. Ask any heterosexual male if he has ever wanted to be a woman and you will get a resounding "NO!"
Women, on the other hand, have been known to daydream about being men on occasion. It seems so much easier, nicer, and convenient to be of the male gender–to be one of the dudes.
Women do walk around saying things like, "Gosh, I wish I could be a guy for a day. It must be so nice to just roll out of bed and be ready to walk out the door in 2 minutes. Theyhave better jobs with better pay. Gray hair and wrinkles make them distinguished and sexy. It's just not fair!"
The thing I most envy in men, though, is their ability to make friends.Women have a hard time making friends. Most men do not. Men can meet once or twice and then hang out like they have known each other for years.
Women, not so much. We have the courting period with other women, where we see if they are trustworthy. Then we have a few first dates—maybe a couples' dinner, coffee, or a social gathering. If they pass the first date round, then–and only then–can they be moved into the "unofficial friend" category (which is still a probationary period, obviously). In the unofficial friend category we can move up to things like shopping together, movies, real prayer requests, etc. This phase can last months, even years before an unofficial friend gets promoted to a "close friend" or the coveted best friend position.
It can be exhausting being a woman. I wish I could snap my fingers and make three new best friends. I wish I could compartmentalize my life like men can. I wish I could just be ready and feel ready for sex at the drop of a hat. I wish my emotions didn't rule the day, some days. But I can't. I am forced to go along with the normal female course. So, I sigh and wonder why chicks can't be more like dudes…at least in some ways.
Do you ever daydream of being the opposite sex? Do you think men or women have it easier? Do you sympathize with the difficulties in making friends?
Update: Since writing this post (because it is from my archives) I really have made some awesome and totally rad chick friendships. God answered my whining, incessant prayer for more friends. He rocks.