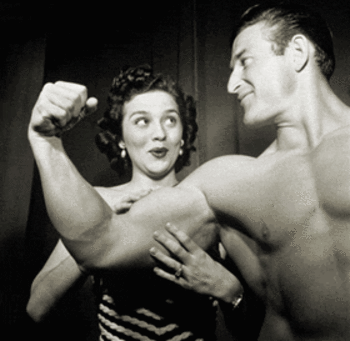 I have written a few times on He Said/She Said Wednesdays about my desire for women to act more like men in some regards. In the way women treat friendships, for instance, they could learn a few things from men. On the other hand, I have also expressed my belief that in order for women to feel truly fulfilled, they must embrace their God-given role as women.
There are benefits to being a man. There are benefits to being a woman. One sex is suppose to be gentle, submissive, and maternal. One sex is suppose to be tough, assertive, and somewhat stoic.
I, for one, would never give up being a woman. I like all the perks and there are many. But is it fair to say that one sex has it easier than another? Many people, including many women, would argue that it is a male-dominated world. Men ruled then and they rule now.
Despite all the advancement of the feminist movement and women's liberation, I wonder : Is it really a man's world?
I could list off a million ways in which men "rule," so to speak. They make more money. They hold more executive level jobs.  They dominate in sports, medicine, Wall Street, and business in general.
However, the salary gap between men and women is the lowest in history. 15 companies in the Fortune 500 are headed by women. Women are, at least in the business world, gaining ground.
But is economic equality between men and women the marker? If men and women were "equal" in business, would we cease hearing feminists complaining that it is a male-dominated world?
Womanhood offers major benefits, as well. Sure, we, along with children, can exit the sinking the boat and crashed airplane first, but there is more. Women are responsible for much of what is marketed and sold today, from clothes, to cars, to appliances, to homes. Women are the shoppers that make the economic world go round, even if much of the money they spend is a man's.
Among women, there is a also a group, full of influence and power. They are called moms. Moms have proven to be force to be reckoned with. From a consumer perspective, moms are powerhouses. They decide much of what the American family will buy from cheese to college supplies.
In more recent years, politicians have begun to pay attention to moms as well, courting them on issues that are important to moms, like healthcare and education.
But are consumer and political influence alone, enough to say one sex has all the power? What about male and female influence within the church? If my posts on women in ministry are any indication, then it is maybe a mixed bag.  Although historically the church has been a male-dominated arena, more and more women today are seeking to serve and are granted permission to serve–in the American church at least.
What about the issue of sex, as well? Sex plays a huge role in society, either for good or for harm. Women today, despite feminists' attempts otherwise, still use sex as a powerful force for influence and even as a weapon. Sex still sells, so to speak, and it is predominately women selling it. Men are rarely traipsed over the hood of a car or wearing a tight bathing suit (thankfully) while attempting to sell you a pair of shoes.
Women are still marketed as sex objects in commercials, television,and film. Men, not so much. And we all know that an actress with a pretty face and a nice body can be catapulted to stardom based on those two assets alone.
Some women would argue that women are still exploited in American culture, because of their portrayal as sex objects. But other women would argue that women are actually wielding the power, choosing to be seen as sex symbols, thereby determining their own fate.
I'm not posing this question because I have an answer. I think the relationship between men and women is a fascinating one and is ever-changing, either for good or for bad. If I had to answer the question myself, I would probably say that on the surface–on paper–it is a man's world. But just below the surface–in practice–it is very much a woman's world.
The truth, however, is that both men and women are equally important in God's Kingdom. Both are necessary and vital as a representation of the Church and God's very character and nature. I love men, but I also love being a woman. Do I wish the world was kinder to women? Yes, I do. I am a servant of Christ though, and that means I serve a God who does value women, even when the rest of the world may not always.
What do you think? Is it really a man's world? Or is it a woman's world? What is your evidence for either?
This post is from the archives