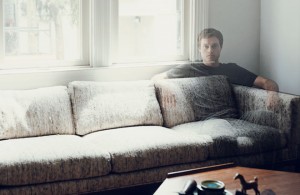 This last week, two posts of mine–Christian Women and the S-Word and Have Sex Even When You Don't Feel Like It--produced some rather angry, snarky, and downright rude comments. All of these comments, surprisingly, were from men.
Huh, go figure. It wasn't women telling me that I am sexist, perverse, or sending women back into the dark ages. It was a bunch of dudes.
One person left perhaps the most hateful comments I have ever received on Modern Reject:
"you are the most perverse and sick brains i have ever heard. Why you don't open a whorehouse that serves every men without payment. You are the evidence what religion are made for : women hate and sadisme [sic]. Thanks you for be so honest, you can't be sicker than that"
Barring the obvious and painful grammatical errors, this comment actually made me laugh out loud. Usually, I don't laugh. Usually I get my feathers ruffled and find myself wearing a big fat "I'm offended" sign around my neck.
But not this time. This time, the misunderstanding of my post was so glaringly obvious that all I could do was chuckle. There have been other comments, including this one: "You are not a positive role-model for women." This one stung a little, I admit.
However, this string of comments from men got me thinking. For one thing, where were all the angry women, up in arms, declaring me to be an ignorant, sex-slave, zombie–barefoot and pregnant in the kitchen?
Secondly, what were these men so scared of really? Why is the idea of a submissive woman so offensive to them?
Sure, when we hear the word "submissive" we think of a woman perhaps battered and beaten by her husband. We think of a woman with no voice, mind, or freedom.
Yet, the posts I wrote, I do not think I display such a woman. They display, well, me and my own marriage. Anyone who has spent more than five minutes on Modern Reject knows that I am not lacking in voice, mind, or freedom. Needless to say, my husband is my biggest supporter and blog fan.
As I pondered why these men were so threatened by my posts, I could come to only one conclusion: The idea of a submissive wife is only threatening to a man who does not know how to lead.
These days, women are so used to wearing the pants that the concept of male leadership has nearly vanished entirely from our culture. The misconceived notion of equality has quietly–and not so quietly–taken its place.
Where the roles of men and women were once clearly defined (and, no doubt, abused by men throughout history), today, those lines are blurred, if not completely erased. So, why would a man desire a woman who relishes her God-given role as such, when he himself doesn't know how to be a man?
When men are told they are just like women and women are told they are just like men, the concept of the Christian marriage is seen as archaic and perverse–built upon sexism and masochism–instead of self-sacrificing love and humility.
I miss men. They seem to be vanishing into thin air. Instead of men leading their homes, they are hell-bent on telling me that I'm no role model for women. Well, exactly what kind of role model for men are we creating?
My rambling aside, do you agree or disagree? Why do you think men were more quick to call me names and disagree than women? How can the Church better teach and demonstrate the concept of submission?