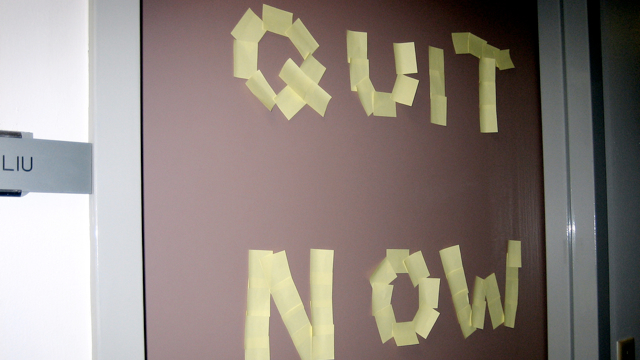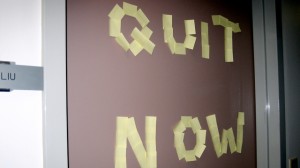 So, it seems that every few months or so, I fall into a blog funk. These funks don't usually last for long and before I know it, I'm back to feeling like my old blogging self. Over the weekend, however, I read a blog post by Josh, also known as The Minor Prophet.
He explained how he once followed blogs like mine and Rachel Held Evans, but how now, for some unexplained reason, he no longer cares. He cannot say for sure as to the reason why, but he is no longer interested in Evangelical blogs or even the idea of Evangelical Christianity, for that matter.
I spent the weekend mulling his thoughts over. My feelings weren't hurt. I didn't take it personally. The thing is, I kinda get it, because the thing is, I sorta feel the same way.
Which got me thinking, why do I write Modern Reject? And really, why does anyone read it, because I'm pretty sure you should quit reading this blog…
I mean, Modern Reject is just one blog in a sea–ocean–of blogs. Many of whom are better written than mine. More than anything when I started blogging, I never wanted to be just another Evangelical voice, clamoring for recognition and status.
Of course, we are always our harshest critics and I'm no exception. But despite my nay-saying, I do believe Modern Reject is something unique and there is reason for that. The reason, is that God told me to start blogging (believe the wacky girl who hears from God or not).
But if you want cookie-cutter Christian theology or to be spoon-fed the status-quo, than you should quit reading this blog, because I try to let the Lord lead me in what to write. That means, sometimes I step on some toes and I'm okay with that.
More than that, Modern Reject is not built upon some magical platform. I don't have a book published. I'm not a nationally recognized speaker. I'm just a stay home mom who somehow, miraculously squeezes out a few blog posts a week, and just as miraculously, all of you show up to read them. Never ceases to amaze me.
If you're looking to read the words of a great Christian leader, author, speaker, or guru though, you should quit reading this blog. I'm none of those things. I'm just a girl determined to figure out this whole "working out my salvation with fear and trembling" thing.
And to be honest, I'm so often behind on current Christian events, I feel like I'm usually playing catch-up. I didn't read Rob Bell's last book or even Mark Driscoll's latest book. I don't attend a bunch of Christian conferences to get the inside scoop on what's going on in the church. I'm not an insider.
So, if you're looking for insider in the Christian church, you should definitely quit reading this blog. I'm an outsider, no question and find myself slowing moving more and more to the outside. No worries though, there is freedom here.
I'm not an expert on anything. I don't have a PhD or a Masters degree. I don't make my living by advising, consulting, or even writing. I'm not a professional blogger.
I'm a lover of Jesus, who has a passion to write and speak to anyone willing to listen, because I believe I'm following the path God has set out for me.Modern Reject isn't a business, it's a ministry. With each email and word of encouragement from all of you, the more I'm convinced…the more I believe my husband when he says, "You can never quit."
I am not the most ambitious, driven, motivated blogger on the block either. I mean, I'm no Jeff Goins or Michael Hyatt. I try to take blogging semi-seriously, but only so much as to not let it interfere with my number one priority–my husband and my children.
In reality, I'm actually lazy when it comes to this here blog. It has been one of the greatest tools to stretch me out of mediocrity, a place I usually find quite comfortable.
And look, I don't know why The Minor Prophet isn't interested any longer, but I somehow understand. There are a lot more important things in life than blogging. There are more important things to pursue with fervor (like Jesus) than endlessly debating the pinnacles of Evangelicalism.
So, you decide if you want to keep reading, but if not, I'll understand. Because this blog isn't even mine. Do I love it? Yes. Would I miss it if I quit? Absolutely. Would I miss you? Undoubtedly. But, in the end, all the words I've written don't matter nearly as much, as what He has to say about me.
Please know, I am not fishing for compliments. I'm just doing what I do, which is process my thoughts by writing about them here. So the questions are: Why do you read blogs, not just this blog? What do you get out of them? Do you ever feel fed-up with the constant "talk" of the church and just wish we'd walk the walk?